October Update News
on
October 3, 2018
at
6:00 pm
Hi everyone! Now that all of September is squared away, I wanted to check in with you all!
The next comic update will be in mid-October, probably the week following ComiqueCon! We'll see how the next two weeks shake out. :) It's gonna be another four-pager. All the works in progress will be up on Patreon if you'd like to join us over there!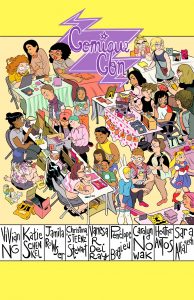 Speaking of ComiqueCon, I'm going!! I'll have my Spectrum Make-Up minicomic AND a free coloring page version of it, so kids (OR WHOEVER) can color their own mini. I'll have a big cup of colored pencils, it's gonna be great. And the usual books, buttons, and sketch cards! I'm very much looking forward to the show.
Here's an action shot of the coloring page, which I posted on Patreon a while back!
Join my Discord server
Also, I created a Discord server! I barely understand it, still mourning AOL Instant Messenger as I am, but it's there if you want to chat! Now that my busy September is over, I've got some time and energy to put into new things, and one of the things I want to work on is my community of readers. :) Join me here: https://discord.gg/Szgj9XZ
Til next time!