Cyber Monday 2018 Info!
on
November 26, 2018
at
10:00 am
It's your HUEliday shopping guide! For the nerdy gals in your life.
There's three main places to buy things with my art on them, so I'll go over them one by one.
Books, Prints, and Original Art: Storenvy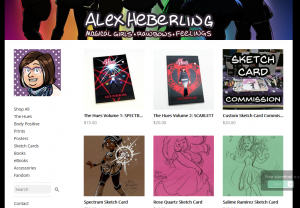 This is the one I run with my own two hands, so orders will ship in 1-3 business days via USPS!  My cutoff date for USPS priority shipping by Christmas Day is December 17th.
eBooks and Sketchbooks: Gumroad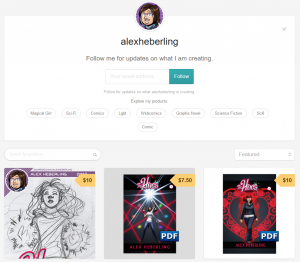 This one's all digital! And Gumroad is super easy to use. :)
Clothing, Stickers, Notebooks, and Phone Cases: Redbubble
Redbubble prints artwork on a variety of products, including t-shirts, stickers, notebooks, phone cases, tablet cases, pillows, scarves, and more!
This is kind of where all my miscellaneous projects go! RB's advantage is the variety of products they can make. They handle all the shipping on their end, so Redbubble will have its own ordering deadlines for the holidays. :)
Patreon Pause
Next month, I'll be pausing my Patreon for a bit! I'm going to take the month of December off for the holidays, do some housekeeping, and then probably reopen in 2019.
If you're a patron, there's nothing you need to do! Patreon will send you an alert when I pause my campaign, and you will not be charged. :)
If you're not a patron (yet…?) then what you should do is go over to my Patreon and click FOLLOW. The next time I make a public post, you'll be notified!
December Update
I do plan to have another comic update by the end of the year! I'll be taking some time off to relax (or trying to) in December, but I'll still have time for TH stuff.
The best way to keep informed is to join my Discord server! We're a pretty chill group. There's about two dozen of us now!
That's It
Hey, if you made it all the way to the end, congrats. Hope you have a lovely holiday season!