Weekly Updates Abound!
on
September 27, 2013
at
12:49 am
Hi everyone!  My apologies for missing last week's update.  Last Saturday, I had a booth at Independents' Day in downtown Columbus, so I was doing a lot of prep in the days leading up to it and plain forgot.  Luckily, we did not blow away in the wind!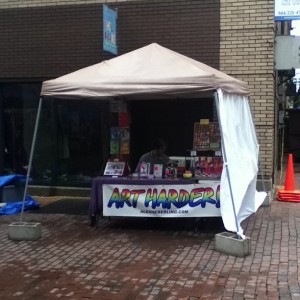 The Independents' Day booth!
As of last week, the first scene of Chapter 3 is totally done!  I'm closing in on the second scene being finished as well; I just have the shading on these two pages to finish.  Here are some progress pics:
This weekend is CCAD's MIX Symposium!  It's two days full of talking comics, with a keynote address by Jeff Smith that's open to the public.  I'll be on the Creative Methods panel on Saturday at 10am.  I'm quite excited about the panels and I think it's going to be a great taster for the Festival of Cartoon Art next month.
Hope you all are having a great week, and I'll see you next Friday!