Monthly Update
on
June 2, 2014
at
12:00 am
Hello to the new folks who visited me at Tricon last Saturday!  Welcome to a new month of The Hues. :D  I hope you enjoy reading through the archives, and chiming in in the comments!
New Patreon Rewards
Over on my Patreon page, I've made a few changes to the rewards!  I've added a new reward that gets you a custom digital sketch card every month.  This post goes over all the changes, so go check it out!  For a dollar a month, you can see how the comic sausage is made in the patron-only blog. :)
June Conventions
My MIDWEST MADNESS!!!!!!! tour is over, but the summer is just getting started.  I've got ONE weekend off before jumping right in again!  June 11-15th, I'll be at Origins Game Fair in the exhibit hall, and I'll be teaching a seminar of some sort!  I'll post when the details have been hammered out. :)
And June 20-22nd, I'll be going back to TrotCon again.  I'll be in the Artist Acres at table 15.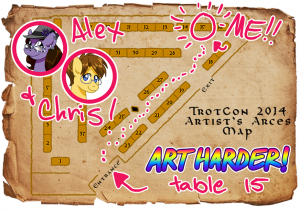 Volume 1 Kickstarter
I'm getting the first book ready to be printed, and I wanted to get some hype going early!  The Hues Volume 1 Kickstarter will probably start next month, but I'm not exactly sure when.  I've got a long list of things to do before the book will be ready for print, but I'll be keeping you guys updated as I knock out the to-dos. :D  The book will be in full color, and will include the first three chapters.  With bonus content, it'll be around 120 pages.