Monthly Update
on
June 1, 2013
at
12:00 am
Hi everyone!  It's June 1st, and that means MONTHLY UPDATE TIME.
My buddy Kurt over at TGT Media is raising funds for his first documentary!  Go check out his IndieGoGo campaign and consider pledging!  One of the reward tiers is going to include a sketch commission by me, so keep an eye out for it when it become available. :D EDIT: It is now available! And it comes with a DVD!
I've been on TGT Media two times over the years, and I'm going to be on the show again later this month!  I'll post the link when it happens.
I've been getting more frequent inquiries about commissions the last few weeks, so I thought it was a good idea to reinstate the commissions page on my website!  If you are interested in some art, go look over the options, and then send me an email at alexheberling@gmail.com.  Commissions help keep the roof over my head, so don't hesitate to ask!
June 14-16th is TrotCon, a My Little Pony convention in Columbus, OH!  I'm going to be at table 23 in the Artist Acres, and I'm gonna pony it up all over the place. :)  I had a great time last year, and this year's event has expanded into a three-day event at a new location, so I think it's going to be awesome. The Origins Game Fair is also the same weekend, so there's going to be lots going on.  I'm looking forward to it!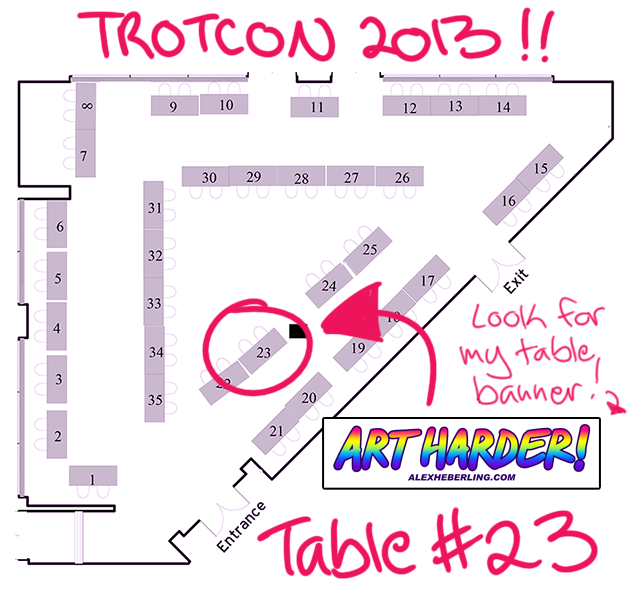 Strip Search
HAS ANYONE ELSE BEEN WATCHING STRIP SEARCH? Because I'm kind of obsessed with it. LET'S TALK.