Page 368
on
November 12, 2018
at
11:06 am
WOOOOOO FACE REVEAL! Let me introduce Naku, our alien leader.
How's it going? A few things to let you know about, while you're here:
Discord
Have you heard about my Discord server? It's a pretty chill place. Click this link to join us! It's open to anyone, no patreons required. :)
If you ARE a patron, then you can get the special Patron role in the user list! You just have to link up your Patreon and Discord accounts. Here's a help article to show you how!
Holiday Sketch Cards
WHAT IF I TOLD YOU THAT BABY JESUS LOVES SKETCH CARDS??
For real though, I'm open for commissions! If you're looking for a unique gift for a loved one this holiday season, hit me up. I do portraits, original characters, your favorite ship smooching, your D&D party, whatever.
Prices: (up to 2 characters)
Pencil/Ink: $10
Markers: $20
Colored Pencil: $40
US shipping: +$7
International shipping: It gets kind of expensive and varies by destination. Get in touch with me for a quote!
Payment methods: I take PayPal, Square, or Venmo
Patrons get priority!
My #sketchcard tag on Tumblr is the best place to see past examples! Slots are limited, since the winter holiday season gets busier and flies by faster every year. Drop me an email at alexheberling@gmail.com or send me a message on Patreon to get started.
BUY MY OTHER THINGS
If you're looking for something else for your gift list, check out my store! I've got books, prints, and pretty much everything I've ever sold at a convention, so there's surely something to hit your fancy. Every Storenvy order I ship will also get a free copy of my Spectrum Make-Up! mini!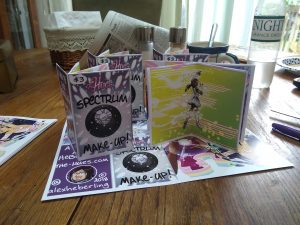 For digital goods, check out my Gumroad page!
And for everything else, check out my Redbubble!
The Quest for 1k
I've been flirting with 1000 Twitter followers for months.
Wait, that came out wrong.
I've been JUST SHY of 1000 followers for a few months, so if you'd like to help me creep ever closer to the elusive 4th digit, follow me on Twitter!
Every time it seems like I've made it, Twitter purges another round of bots and I drop again. :| PLEASE HELP ME, I CAN'T LIVE LIKE THIS.
That's it for now! I'm shooting for the next update to come out before the end of the year. Til next time!! :D